Why your backyard needs a cabana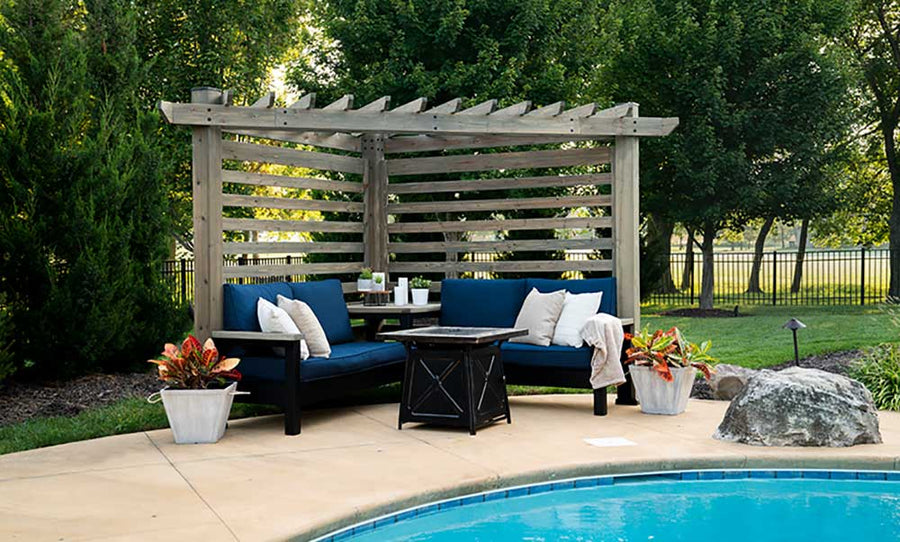 For those of us living in our backyards this summer, we want it all: quality, closeness, privacy - after all this is how we'd normally experience our summer vacation. Backyard cabanas are becoming increasingly popular the world over as they give a sense of style and luxury to your backyard while combining the best in outdoor furniture arrangements into one. If you're unsure whether your backyard needs a cabana to enjoy this time of year, we think you'll be convinced. Once you've explored one for yourself,  you'll find it's your new favorite backyard accessory. Let us present: the Cabana Pergola Collection from Backyard Discovery.
What is a backyard cabana?
When you hear the word "cabana", the first thing that comes into most people's minds is a cozy lounge that can be found near beaches, lakes, or poolside at a tropical resort. In short, they make you think of going on vacation. A backyard cabana pergola is very similar, with the wonderful benefit that you can use it every day as it's right there in your own outdoor space. 
Backyard cabana pergolas might be slightly different in style to the cabanas you might find in resorts, but they feel like you're bringing a little slice of vacation home. They are typically enclosed or semi-enclosed structures and they offer different customization elements, so you can find the best backyard cabana for your needs and your space. 
Perhaps you want to place it near your pool to create a pool house, use it as an outdoor lounge, a place to wow your guests when you entertain, or perhaps you want a cozy lounge where you can get closer to nature? A backyard cabana is essentially an extension of your house outdoors.
How do you use cabanas?
Cabanas are very flexible in terms of how you use them, and it really depends on your personal preferences. The most common use for a backyard cabana is simply as a beautiful place to relax and unwind, sheltered from the sun to enjoy the outdoor breeze.
They're also great spaces for entertaining family and friends, enjoying a BBQ on a balmy summer night, and as a family poolside retreat.
Why buy a backyard cabana?
If you have space in your backyard or perhaps by your pool, a backyard cabana is the perfect addition to your outdoor space. Impress your guests with your beautiful extended living space and create a stylish ambience unique to you. Backyard cabanas provide:
1. An extended outdoor area
You can use your backyard cabana as an additional living area, taking the indoors outside. You could even equip it with an entertainment system so you can enjoy movies and your favorite TV shows outdoors in a relaxing setting. If you have a pool, you'll probably want to entertain family and friends with pool parties. Having a backyard cabana offers shade and extra space not just to dry off, but to leave drinks and snacks for your guests after they've had a dip in the pool.
2. A private backyard retreat
Need some space from your neighbors? Select from stylish panel designs that softly allow for breeze and sunlight to filter through, while closing out the world around you. 
3. Home beautification
Another great benefit a backyard cabana can bring is to add flair and enhance the beauty of your backyard and create a space for relaxation. Whether you're looking to buy a cabana simply to style up your backyard or if you want one for more practical purposes like creating shade or using as a pool house, cabanas definitely add a little something extra to your backyard. They look beautiful and they're also convenient, practical, and functional. It's a win-win!
Backyard cabanas also come in many different styles, so you can find one that suits you and your outdoor space. Try one surrounding your hot tub or frame up a BBQ grill or fire pit. Whatever your outdoor furniture structure needs, the cabana pergola has an application to complete your look.
What are cabanas made from?
Cabanas can be made from pretty much any building material, such as aluminum, treated wood, steel - basically, any material that ensures your cabana is durable and long-lasting. We think the best backyard cabanas that still look great over time are made from high-quality wood and powder coated steel. You can enjoy them season after season, and they are a beautiful, fitting addition to your backyard space. 

Discover our unique cabana pergolas - new for summer 2020.