The evolution of backyard furniture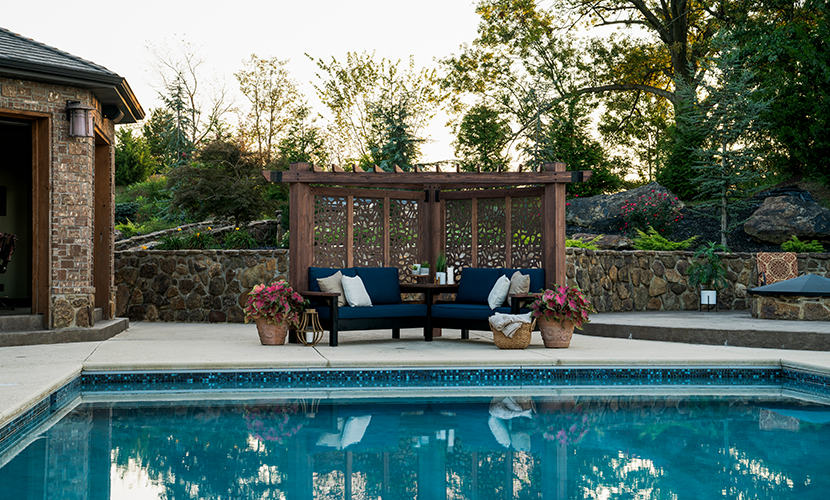 Outdoor furniture today doesn't only look beautiful and stylish, but the quality and designs are such that it's much more durable and long-lasting. How has backyard furniture evolved? What have we learned from outdoor structures of the past? In this article, we uncover the history behind outdoor furniture designs and its evolution into outdoor furniture today.
"Ancient" outdoor furniture
You may already have come across ancient outdoor furniture if you've visited the Acropolis in Greece or the ruins of the Roman Forum. They hold the earliest examples of outdoor furniture; benches and seats made of stone. Their stone seats and benches are large and heavy, but you can still see the style of their furniture in what we commonly use today.
Archaeologists have also found earlier furniture designs from ancient Egypt (approximately 3100 BCE to 332 BCE). The furniture made at that time was wicker, crafted from the reeds and swamp grass found on the banks of the Nile River. The furniture made from these materials was used indoors and outdoors, and included storage chests, chairs, and baskets.
During the medieval times, grass was the most commonly-used outdoor furniture, and it's our medieval cousins who passed down the use of grass and lawns so common in our gardens today. It was common during this period to build banks of turf to use as "benches".
Victorian and modern era furniture
In the late 1800s, cast iron furniture became popular in the gardens of the well-to-do. What it lacks in comfort, it made up for in beauty. The designs were extraordinary, and the Victorian garden was all about beauty. There are still some examples of this type of cast iron furniture in the White House Gardens today.
Wrought iron was another popular material for outdoor furniture among the wealthiest of Americans. Artisans would twist and shape wrought iron into delicate patterns to create stunning furniture designs. The processes of crafting were very expensive, but the results were beautiful and even today, these antique designs remain high in demand.
Around this time, wicker furniture also came to the US through Boston native, Cyrus Wakefield. He discovered that the rattan that was used for securing and cushioning cargo could also be used for cushioning people. He started to import rattan to be used for furniture making. However, artisans who could do the complex hand-weaving required were scarce, and it was also extremely time-consuming.
Outdoor furniture from the 1950s to today
Teak furniture was introduced in the mid-1950s, and started a trend for wood backyard furniture that has lasted to this day. Teak was originally used for building boats, flooring, and construction all over the world because it's a dense hardwood naturally high in oil, as well as being insect and rot-resistant. As long as teak is treated with oils, it retains its golden honey-brown color for many years.
New plastic technology created a plastic chair revolution in the 1960s. Designers were able to mold and design plastic furniture into styles that were previously unimaginable. The transparency, color, stackable options, and other uses allowed plastic furniture to be produced in ways which are still common today. Although plastic was cheap, it also proved to be less durable.
Nowadays, hardwood is considered the best quality material for backyard furniture. It beautifies a backyard, lasts for years, and is easy to maintain. That's why we use cedar wood to make our new range of cabana pergolas.

Check out our ultra modern cabana pergolas - new for summer 2020.