Furniture for large backyards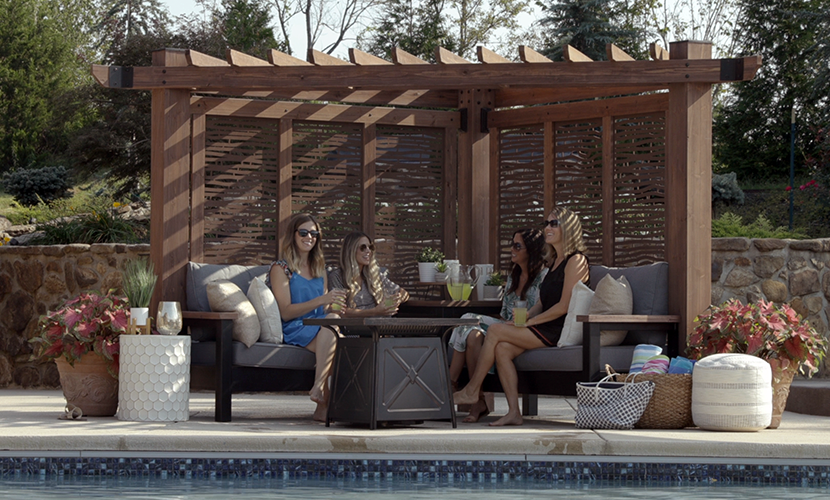 Choosing furniture for your backyard is often tricky, and if you have a large backyard it's only limited by your imagination - the amount of choice you have can often be overwhelming! In this article, you'll get some great ideas for garden furniture that will really make the most out of your large backyard space.
Are you making the most of your large backyard?
With many of us spending more time at home than normal, we all want to make the most of our outdoor space, especially during the summer months. But how to really make the most of your large backyard? What will make it a place you want to spend time, whether that's relaxing alone or having fun with your family? The most important thing to consider is what suits your lifestyle - that might be creating an awesome treehouse and play area for your kids, or an entertainment area where you can host parties and special events. 
Having a large backyard also means you can 'zone' your space. You could create an area just for kids, somewhere adult-only, a vegetable garden, install a pool, or even build a small kitchen to really maximize your use of space. 
Each zone will probably need its own set of furniture, and we have just the ideas you might like...
6 ideas for garden furniture for large backyards
The outdoor lounge set
Large backyards require large, luxurious outdoor lounge sets that can accommodate your whole family and friends in one large, relaxing environment. There are myriad types and styles of outdoor lounge furniture to choose from, but we love corner and u-shaped sofas which allow for a large table or a fire pit in the center and mean lots of people can comfortably chat at the same time. With so much choice, you'll be able to pick the color and style that suits you and your space - and don't forget to consider the type of material used for both the frame and soft furnishings, depending on the climate in your area.
The garden dining set
A spacious dining area and high quality dining set are must-haves for a large backyard. Don't stop at lunch or dinner though, an al fresco breakfast is a great way to enjoy the start of the day in your backyard - you could even barbecue your breakfast. Again, your choice of furniture is pretty much limitless, and you could consider classy antique wrought iron (which might be difficult for the kids to maneuver!), to rattan and that solid favorite, wood.
Set the scene for your grill
If you have a large backyard, we don't think it's a leap to say that you've got a large barbecue, too. If that's the case, creating a dedicated barbecue area so you can play host to your family and friends is a great way of making the most of a large garden. You might already have a dining area, but with barbecues offering casual fare, you could consider some comfy chairs and tables near the food so you can chat to your guests as you grill.
Gather-round-the-fire furniture
On cooler evenings, it's lovely to sit and relax around a fire pit. You could keep this simple and use soft furnishings such as cushions, rugs, and blankets, or you could really make the most of your space with squashy chairs, hammocks, and large, comfortable sofas. Whichever you choose, just don't forget the s'mores!
Create a cabana bar
Sports fan? Cocktail connoisseur? You might want to consider a cabana bar. Invite your friends over on game night or for cocktails, and enjoy outdoor drinks from your own bar. Sports fans can put a big screen front and center, with the bar surrounding it. The addition of a grill means you'll enjoy game or cocktail nights (or the two combined!) to the full.
A kids-only zone
Creating a kids-only zone is great for children and parents alike! Playsets and treehouses will keep the kids entertained and active all day, and you could also consider an area where they can simply get back to nature, building dens and forts and making mud pies.
Add a splash of luxury with a corner pergola
Corner pergolas offer both privacy and openness at once, and their design means you can place them anywhere in your large backyard. They create a special, unique space for relaxation, casual conversation and entertainment and are the must-have backyard furniture item for this summer.

Check out our unique cabana pergolas - new for summer 2020.