The benefits of a corner-design pergola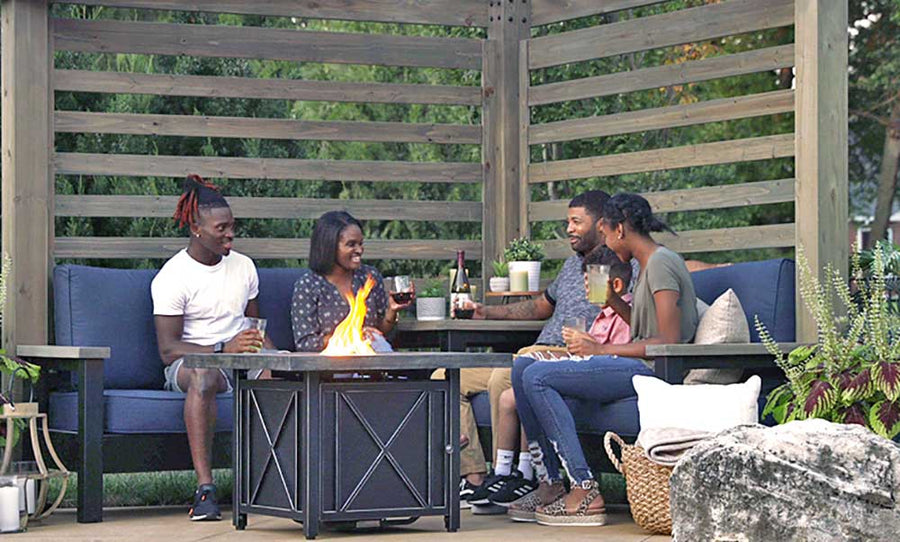 Everyone loves the idea of having a beautiful backyard setting, somewhere to relax and entertain, but making it stylish and luxurious can be a time commitment. Enter the corner-design pergola, new from the Cabana Pergola Collection from Backyard Discovery.
With their unique corner design, there's now a way you can quickly and easily make your backyard beautiful. Here, you can find out more about what a corner pergola is, the benefits of having one, and how they can beautify your backyard.
What is a corner pergola?
A corner pergola can help transform your backyard into a stylish outdoor living space. Rather than having four flat sides, the three-sided corner design means you can put this type of pergola just about anywhere in your backyard. Most pergolas are built from simple vertical posts or pillars that support cross-beams or a roof, but our corner pergolas are designed to provide enough shade for their comfortable seating areas with just the right amount of privacy and openness. 
Corner cabana pergolas can also be used as an extension of your home's living space, as a poolside retreat, an entertainment area or somewhere to simply relax and enjoy your backyard. Our corner pergolas are freestanding, so you can place it anywhere in your backyard and easily move it if you prefer a versatile look.
What are the benefits of a corner pergola?
Pergolas

create a distinctive space

, turning a specific area of your backyard into an entertainment lounge, dining area, relaxation space - anything you want it to be! It's a great addition to your backyard especially if you don't have a patio or deck and want to create a space for entertaining. 

Corner pergolas

provide privacy

. If you need some space from your neighbors or if you just want some quality alone-time, you can choose from stylish panel designs that allow the breeze and sunlight to filter through while keeping you protected from the outside world.
This type of pergola

offers shade

and a stylish space for you to retreat from the sun. Since corner pergolas are freestanding, they can easily be placed on any corner of your backyard or next to your pool. 

Have you ever seen a corner cabana pergola? This never-seen-before design is a show-stopper

- wow your friends and add a unique beauty to your backyard.

Our corner pergolas are freestanding, so you have the option of

easily moving them around your backyard

depending on how you want to use it. Freestanding pergolas are convenient and practical as you have the flexibility you need to move and place them anywhere in your backyard. You are then also free to redecorate your backyard and move your pergola to wherever it looks most stylish in the future.
If you're going to leave your pergola in the same place, you could even

integrate it right into your garden

by growing climbing plants up its sides and over its roof. 
What should I consider when buying a corner pergola?
There are a few things you need to keep in mind when choosing the best corner pergolas for your backyard. One of the main things you should think about is the design of the pergola and how it will look in your backyard. The advantage of the corner design means that it can fit just about anywhere - you might be spoiled for choice!
Another thing to consider is seating for your pergola. If your corner pergola has built-in seating, that eliminates the hassle of having to search for furniture that matches the pergola design you've chosen.
Other considerations include:
Size - is it large enough for your needs?

How much privacy you'll get

Is it freestanding or do you have to fix it in place?
One last thing to consider is durability. Not all pergolas are made to last which is why buying a high-quality pergola that's durable and long-lasting will not only provide the best value, but it will look great for years to come, too. 
Check out our unique cabana pergolas - new for summer 2020.