The hottest backyard trends in 2020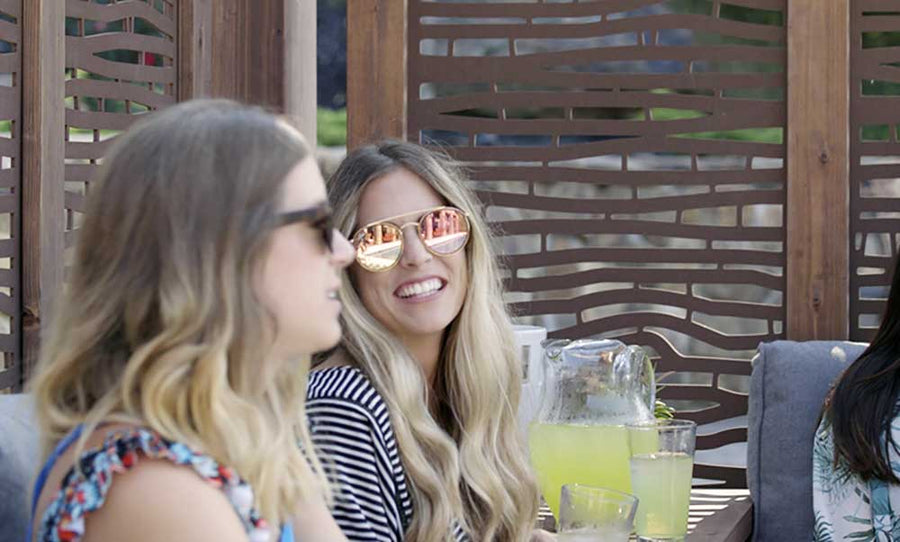 Outdoor living in 2020 means having a space that's open to sunlight and somewhere that's uniquely personal to you, where you can relax and enjoy being outside. Your porch, patio, or backyard are as much a design feature as your home's interior and provide a lot of opportunities to create something really special that you can enjoy for years to come. 
So, how can you bring décor ideas you love for your home into your backyard? We've uncovered some of the backyard trends for 2020 to help you make your outdoor space your ultimate oasis.
7 hot backyard trends for 2020
Take inspiration from these latest garden trends:

1. All-natural outdoor furniture
Outdoor furniture - anything from a bistro set to a full kitchen and dining area - is one of the most popular additions we make to our backyards. This summer's hot outdoor trend is to use organic materials such as cotton, wood, rattan, and wicker for comfort and that natural outdoor feel. These types of materials tend to be much more eco-friendly and withstand all types of weather conditions. Regardless of what materials you opt for in your outdoor furniture, it's always best to cover, store, and protect them during wetter and colder months to ensure you enjoy their outdoor style for years to come.

2. Utilizing colors
Keeping up with outdoor living trends in 2020 means a focus on the colors you use for your backyard's décor, much like you would for your interior design. The trend for deck and patio furniture this year is to go warm and inviting. Cool-toned colors like gray, sky blue, white, and black still rule in popularity. But, earthy hues such as brown, golden yellow, rusty red, and olive green have a wonderfully welcoming effect, too. These colors don't need to stop at your outdoor furniture. You might also consider repainting your doors, railings, or any area close to your backyard with these inviting on-trend colors to match your outdoor design. We're thinking blues with pops of gold look rich, welcoming and trendy.

3. Creating a functional backyard space (that still has that wow factor)
It won't matter if you spend a lot of time or money on the design of your backyard if your space isn't usable or practical. Perhaps the most important feature to focus on is your outdoor "living room" - think of it as an extension of your lounge area indoors. Your family and guests should be able to enjoy your stylish design with ease and comfort. One furniture trend on the up is the use of ergonomic outdoor furniture, which offers total comfort for as long as you're outdoors. Another functional outdoor feature that's hot right now is adding an outdoor kitchen space. If you have space, an outdoor kitchen is a show-stoppingly convenient way of cooking outdoors - with no more trips back and forth to your regular kitchen!

4. Gardening trends
Another hot focus is on garden trends. A lot of us spend time in our backyards because we enjoy the feeling of being close to nature. There are various new ways this year that you can use gardening to enhance your backyard's ambience. If you just have a small backyard space (or if you want to add something unique to a larger space), try vertical gardening. Stack pots side by side vertically and hang them on the side of a fence or wall, or privacy panels, adding more layers depending on how much space you have. Vertical gardens can become a real feature of any outdoor space and are a gardening trend for 2020 that we love.

5. Landscaping your backyard
Landscaping your backyard offers more opportunity for you to decorate (you might even want to add one of our unique new cabana pergolas!). A focus on trees and shrubs that offer multi-season interest, as well as seasonal flowers, is a good way of ensuring your outdoor space looks great all year round. In addition, consider redesigning any decking or patio floors to make them more vibrant and inviting. You could even make use of the colors you choose as the theme for your backyard and implement them into your flooring as well. Modern inlays on your deck's outline can structure or even highlight an area you want your guests to see when they enter your backyard.
6. Outdoor lighting
One of the best times to enjoy your outdoor space and relax is in the evenings. Good lighting helps illuminate your space, especially if you love grilling at night, as well as looking stylish, cozy, and inviting. The outdoor lighting trends for 2020 we love are a tale of two contrasts - big statement lights and tiny strings of fairy lights. A combination of both creates a stylish impression - and these days, you can even control your outdoor lights from your phone.

7. Adding cabana pergolas
This list couldn't be complete without mentioning cabanas! Cabanas are an increasingly popular addition to our backyards. This season, we've launched a new range of luxury cabana pergolas. Their corner design not only means you can put them anywhere in your backyard, but also that they offer both privacy and openness. A great extension to your home, they are perfect for relaxing conversations, enjoying the shade on a hot summer's day, or even as a poolside retreat after you've taken a dip.

Check out our unique cabana pergolas - new for summer 2020.